Front Line Britain Memorial
---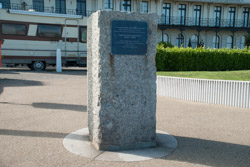 The Frontline Britain memorial commemorates all those in East Kent who died during World War Two.

During much of the 1939-1945 war the town of Dover was very much in the front line with the enemy just 21 miles away.

The town was bombed and shelled regularly for four of those years. Years later it was decided that a plaque should mark the bravery of those who had stayed in the town and defied the enemy.

So, in 1994, this small plaque was unveiled by Countess Mountbatten of Burma commemorating civilians and those in the services who had served in Dover and East Kent in the war.