The Dunkirk Memorial

:
---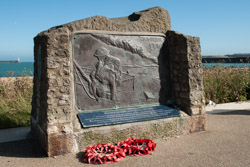 The Dunkirk Memorial pays tribute to the events of 26th May to 4th June 1940 when 338,226 British and Allied troops were evacuated from the beaches of Dunkirk to Kentish ports in an assortment of craft which included destroyers, paddle-steamers, trawlers, dredgers and cockle boats. 180,982 men landed in Dover but 68,111 were killed or captured by the enemy during the retreat.

The Dunkirk evacuation was planned and implemented in the cliffs beneath Dover Castle by Vice-Admiral Bertram Ramsay and his staff.Dover, with its huge harbour, was where the majority, 202,300, of those saved were landed in the rescue operation. Dover people turned out in strength to man feeding stations and First Aid posts to help the returning exhausted troops.They were checked before scores of trains carried them inland from the Marine Station. Each year, on the anniversary of the evacuation, wreaths are placed here by those who remember those who died helping others.