Old St.James' Church

:
---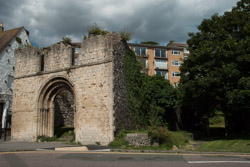 Old St. James' Church, originally Norman, was heavily restored in 1869. Badly damaged by German shelling from the French coast during the Second World War it is now preserved as a 'tidy ruin'. The main doorway is Victorian, in the Norman style, but on the north side in Hubert Passage, is a damaged medieval doorway with barley-sugar columns, filled with attractive pieces of carved stone.

Old St. James' Church, retained by the local authority as a "tidy ruin", was once a place of worship by seafarers and soldiers at Dover Castle. As the surrounding area became more populated it was succeeded by a new and much larger St. James' Church, demolished as a result of war damage.It was in this old St. James Church where the Lord Warden of the Cinque Ports held courts relating to maritime issues. The last sitting was chaired by the famous Duke of Wellington.

During the 1939-45 war the building was hit several times by bombs and shells until one night, after the war, most of what remained just collapsed. The interesting arched entrance is often used by couples who have married in a register office as a backdrop for the wedding pictures. That way it looks as though they were married in church!