Market Hall

::
---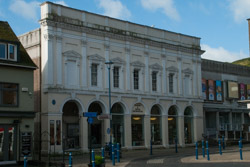 On the south side of Market Square is the attractive façade of the former Market Hall, designed by Edmund Woodthorpe in 1846.  The Museum, transferred from the old Guildhall, occupied the upper storey until it was damaged by enemy action in the Second World War.  It returned to this site in 1991 and has now been joined by the Visitor Information Centre.

The imposing building in the Market Square houses Dover's Museum and the Visitor Information Centre, but for many years the building contained, on the ground floor, the town's indoor market, which in peace and war was put to different uses.

In peace time there was a range of small shops including fishmongers, greengrocers, butchers, florists, bakers, a hardware stall and even Vickery's oyster bar. All watched for cleanliness by the market inspector who had his office here.

But in wartime the Market Hall took on another life as a temporary mortuary. It was here that the dead bluejackets and sailors were placed when their bodies were brought home from the famous 1918 Zeebrugge Raid. In 1940, here were laid the bodies of some of the dead who died during the evacuation of Dunkirk.