St.Martin LeGrand
---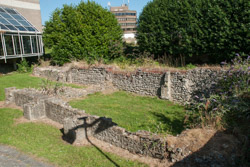 In the 7th century a community of secular Canons was established in the Castle.  At the end of the century King Withred of Kent moved the priests to a monastery on the west side of the present Market Square.  When William the Conqueror invaded England in 1066 he marched on Dover and burnt it. The Normans rebuilt the monastery and the splendid church of St Martin Le Grand replaced the Saxon building. The church, cruciform in plan, had three apsidal chapels at the east end.  In 1131 the Canons were turned out, probably on a pretext, and St. Martin Le Grand became the church of three parishes.  Its destruction began at the Reformation.  More was pulled down in 1881 and even more when the National Provincial Bank, now the Natwest, was built. The foundations behind the bank excavated in the 1970's can be seen.

In medieval times the Market Square was the churchyard to St Martin's Church and it was here that the annual St Martin's Fair was held. This annual get together of Dover people was established by royal grant about 1160. Originally it was a religious festival, but as time went by general merry making took over. These were the days when the cross, in honour of St. Martin (Dover's patron saint), dominated the square and it was around the cross that everyone met.

After suppression by Henry VIII St Martin-le-Grand fell into disrepair. Much of its stonework was removed and reused elsewhere. What remained became hidden from view until German bombs and shells destroyed the properties which concealed the ruins.

In the Market Square stood the town's Guildhall where local decisions were made. A few yards from the Guildhall was Dover's place of punishment for those who broke the law. Here, for many years, were the stocks, pillory, cage and whipping posts It was here where thieving cutpurse Richard Shoveler was nailed to the pillory by his ear and given a knife to be told he could be free once he had cut off his own ear. The existence of these instruments of punishment is now marked by a blue plaque erected by The Dover Society on the side of the Natwest bank.

It is believed the River Dour once flowed through what is now the Square. The stream remains close by. Archaeologists, over the years, have discovered much of Dover's history here, going right back to the days when Roman ships berthed at wooden quays. Passengers disembarked to walk to Roman villas a few yards away.