Roman Painted House

:
---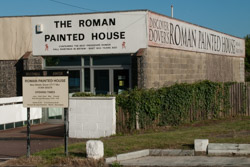 The remarkable Roman Painted House was excavated by the Kent Archaeological Rescue Unit in the 1970s.  This town house or hotel dating from A.D.200, plus a section of a major Roman fort dating from A.D.270 has been preserved within a modern building run largely by volunteers.

No comparable painted walls have survived north of the Alps.  The hypocaust (underfloor) heating system can be seen and there are displays of artefacts, photographs and a video. Extensive Roman remains lie under the adjacent York Street dual carriageway.

The Roman hotel stood outside a great naval fort of the Classis Britannica, but around 270 AD it was demolished by the Roman army during the building of defences against Saxon raiders. By covering up the remains of the hotel they protected for many hundreds of years the painted walls.