St Edmund's Chapel

:
---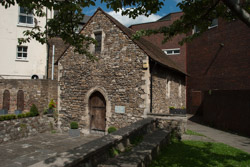 St Edmund's Chapel is probably the smallest church in England in regular use. Built as a cemetery chapel for the Maison Dieu, it was dedicated to St. Edmund of Abingdon, Archbishop of Canterbury 1234-40 and consecrated by St. Richard of Chichester who died a few days later in the Maison Dieu in 1253. It is the only religious building consecrated by one English saint in honour of another English saint. After its suppression it was put to various uses until 1965 when, threatened with demolition, it was purchased privately and beautifully restored by 1968.  At least 75% of the building is original.

The building has a long and interesting history being at various times a forge, a centre where toys were made and probably living accommodation.

For more information about its history, present-day services and to download a booklet about it, visit the chapel website.