Lord Warden House

:

---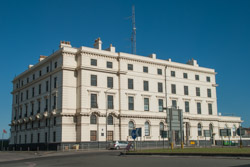 Lord Warden House is the impressive building at the end of The Viaduct. Built as the Lord Warden Hotel, it was opened in 1851 to cater for cross Channel passengers arriving and departing by rail at the adjacent Town Station (now demolished). Distinguished guests included Napoleon III and Charles Dickens.

Few structures in Dover have suffered such a riches-to-rags existence as the former Lord Warden Hotel, now renamed Lord Warden House. This four-storey building, over the years, has welcomed scores of Lords and Duchesses, artists, writers, diplomats and rogues. Now, in the ownership of Dover Harbour Board, it provides accommodation for ship forwarding agents and freight clerks dealing with Customs clearance.

The hotel, with its opulent ballroom, was opened in September 1853 by the South Eastern Railway which bought the site 10 years previously from the Dover port authority who were the ground landlords for the whole area. As an hotel it quickly became popular with scores of well-heeled passengers waiting for favourable weather to catch a packet boat sailing from what is now the western docks.

The hotel was regularly frequented by Charles Dickens on his way to France. Indeed he used the hotel scene for one of his yarns. Another writer who sat and watched his fellow guests was William Makepeace Thackeray.

Napoleon III, the Emperor of the French, was a guest at the Lord Warden several times but none so sad as the day he arrived in Dover from Ostend from a Prussian prisoner-of-war camp. He had been released by the Prussians on his abdication and in March 1871 arrived at Dover quietly to be guided to the hotel to be re-united with his wife Eugenie and their son the Prince Imperial. The occasion is marked by a Dover Society blue plaque on the exterior wall of the building.

It was at the Lord Warden where, in July 1909, the French aviator Louis Bleriot was feted on his pioneer flight across the Channel before heading off for more praise in London.

During the Second World War the hotel building was taken over by the Royal Navy and was named by them as HMS Wasp. It became the headquarters, with plotting rooms, of the navy's coastal force of motor torpedo boats and other fast craft.

Dover Harbour Board spent nearly £1 million repairing and repainting the property so that today it stands as a proud landmark recalling its better days.